NHS Lothian Quality Showcase 2023
A free Regional Conference celebrating QI as a means for change
All Doctors in Training Welcome!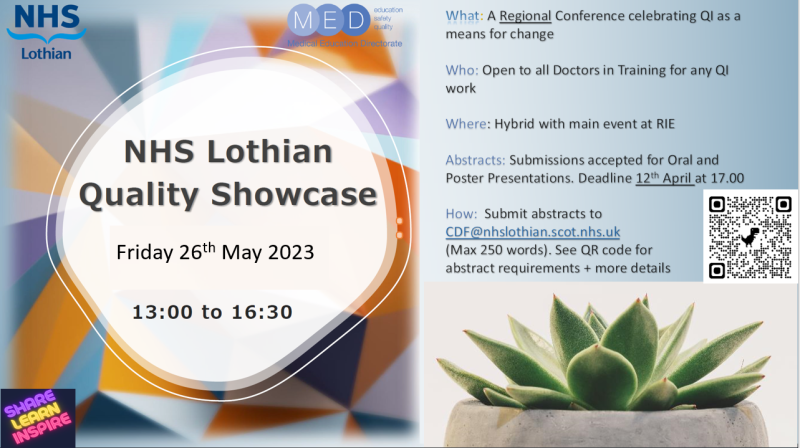 Overview
Calling all Doctors in Training!
An exciting opportunity to present your work at a regional meeting!
We are holding the 2023 Quality Improvement Showcase on Friday 26th May 2023 from 1-4.30pm.
Key Note Speakers to include Dr Andrew Goddard on Sustainability and Dr Cath Stretton on Civility, and how we can use QI to address these issues.
All are invited to attend the showcase which will be held in person in Lecture Theatre B, Chancellor's Building, RIE. A virtual option to join will also be available on TEAMS, with spaces to watch the conference at the Western General Hospital and St John's Hospital.
For any queries, please contact: arjuna.sivakumaran@nhslothian.scot.nhs.uk. We look forward to seeing you there!

Abstract Submissions
Abstract submissions are now open! We invite abstracts on any QUALITY IMPROVEMENT work you have contributed to in NHS Lothian.
We encourage any doctor in training to submit, regardless of grade/stage of training.
Abstracts will be considered for 5-10 minute oral presentations during the showcase, or as poster presentations.
Prizes will be on offer for the best Oral and Poster presentations.

Abstracts should be no more than 250 words and should be submitted to CDF@nhslothian.scot.nhs.uk. See below for the advised format of the abstract.
Deadline for submission: 12th April at 17.00

Abstract Format
Abstract should be structured in the following format:
Title: Should summarize the abstract and suggest how the topic is relevant and important.
Topic/Theme area: Clinical/ Sustainability/ Civility and staff wellbeing asafety/ Realistic Medicine/ Patient safety (including prescribing)
Preferred Presentation format: Poster or Oral
Author Names: outline the main author, and who are co-authors, including full name and institution
Introduction: Is usually several sentences that outline the question addressed by the project. The first sentence should frame the issue. If possible, provide a concise review of what is and is not known about the problem being addressed, and how your project fills a gap. The final sentence should describe the purpose of the initiative and include a clear aim statement that specifically lists the desired improvement target.
Methods: Should describe 1) what QI measures (outcome/process/balancing) were used to evaluate the QI intervention; 2) what change(s) were implemented, and ideally an explicit rationale for why the proposed changes would be expected to solve the local QI problem, i.e, what did you learn from your driver diagram; 3) detailed description of the iterative PDSA cycles of change used to implement the change(s); 4) analytic approach used to evaluate the impact of the intervention.
Results: Provide a summary of the results.
Conclusion: State concisely what can be concluded. This must be supported by data presented in the abstract. Describe the implications of the project findings. Include major limitations and future directions i.e. next steps +/- implementation.
Word Count: 250 words
Arjuna Sivakumaran
Medical Education Fellow
Public Health / Medicine (SJH)

Dr Ross Paterson
ADME (Improvement)
Intensive Care Consultant (WGH)
David Maclennan
Medical Education Fellow
Medicine RIE