Trickle
Trickle is an online forum giving space for Lothian doctors in training to voice their concerns, make suggestions for workplace improvements, and collaborate with each other and members of MED.

Login to see our NHS Lothian Team iD.

Check out the useful induction information stored within Trickle and the lately on Trickle newsletter updates which contain huge amounts of useful information about working in Lothian.
An Overview of Trickle
A video highlighting the main features of the platform.
The Do's and Don't's of Trickle
Tips to make the most of Trickle
float ideas on workplace improvements/innovations that are in our sphere of influence to change

share examples of good practice/useful information between hospitals you think others would benefit from knowing

share concerns that are making your job harder

collaborate constructively, share and upvote issues - although the Trickle Champions will work on Trickles in a structured way anyone can respond to a Trickle post!
Things to avoid on Trickle
use the anonymity as an excuse to be rude/abusive to other members of staff - don't say things you wouldn't say in "real life"

use trickle to ask "how to" before searching intranet or asking the relevant HR/ IT team first

posting patient safety concerns or patient identifiable information - follow the advice given in the MED concerns page

using Trickle to vent about matters out with the organisation's control

May 2023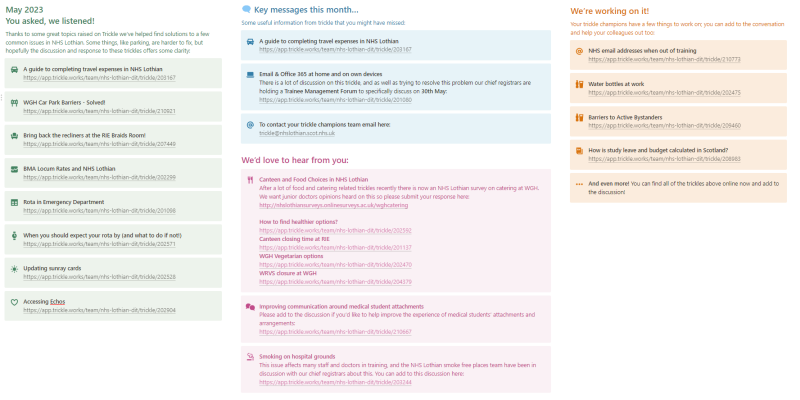 March 2023

February 2023

October 2022

September 2022

August 2022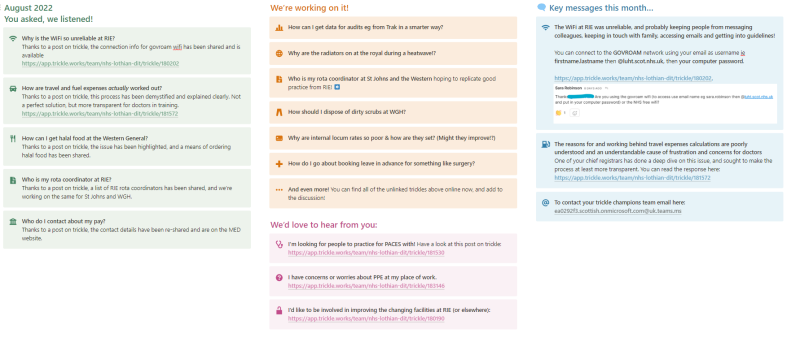 Lately on Trickle
PDF Version with clickable links:
Trickle Documents
As a platform sharing information about work in NHS Lothian we have carefully considered the unintended consequences or inappropriate use